Triton Holding Public Company Limited (TRITN) has reported that on 12 July 2019, Triton Power Company Limited (TPW), TRITON's subsidiary of 99.99% of its registered capital, entered into a Share Purchase and Sale Agreement with conditions precedent to purchase ordinary shares of Nongree Power Plant Company Limited (NRPP) operating business in electricity generation from biogas with maximum generation capacity of 3.0 megawatt, to acquire 1,600,000 shares or representing 80% of the registered capital after capital increase by NRPP, totaling Baht 150,000,000.
In addition, according to the conditions precedent under the agreement, TPW shall complete the assessment of business status in all aspects and propose the assessment result to the Board of Directors meeting for approval. Presently, TPW has already abided by the conditions precedent under the share purchase and sale agreement; therefore, the Board of Directors meeting no.9/2019 held on 27 August 2019 passed a resolution approving TPW to purchase the ordinary shares in NRPP.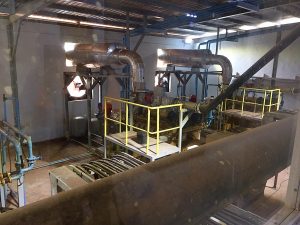 The payment for ordinary shares made by TPW is divided into two parts; the first part is to purchase ordinary shares from the existing shareholder which is STRR Engineering Company Limited (STRR) in an amount of Baht 40,000,000 and the second part is to purchase capital increase shares in NRPP of 1,100,000 shares at a par value of Baht 100 per share in a total amount of Baht 110,000,000, totaling altogether Baht 150,000,000.
NRPP generates and sells electricity to Provincial Electricity Authority (PEA), which the electricity is generated by biogas incineration with a generating capacity of 3 megawatt. NRPP started Commercial Operation Date (COD) to PPA on 29 June 2016 and received Adders at the rate of Baht 0.30 per Kilowatt hour for 7 years from the date that COD has been set for Nongree Power Plant at Nongree sub-district, Bo Ploy District, Kanchanaburi.
The share acquisition in NRPP shall allow TRITN to expand its capacity into a new business that provides opportunities for TRITN to highly grow with continuous revenue recognition for the long term which increases TRITN's efficiency in operating its businesses.