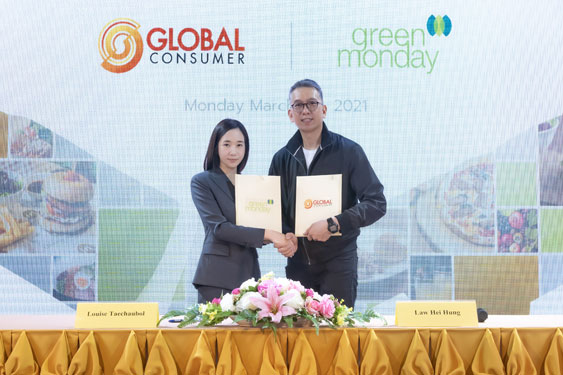 GLOCON and Green Monday Holdings Limited join hands in developing Plant Based Food, in response to nutritious food and healthy market trend, paving the ways to become global leader in food innovation industry. The launch of "Plant-based Burger" in May 2021 via A&W – Kitchen Plus will be the pilot project in Thailand.
Miss Louise Taechaubol, Chairman of Executive Committee GLOBAL CONSUMER PUBLIC CO.,LTD. (GLOCON) mentioned that GLOCON is ready to step into the global innovation food industry to uplift the standard of consumers' health and move forward the continuous expansion and long term sustainability. The signing MOU with Green Monday Holdings Limited ( GM) one of global leader in manufacturing Plant Based Food, under the brand OMNIMEAT, has jointly co-operated to develop ready-to-eat Based Food to serve the nutritious food and healthy market trend which marks the upper level with high growth margin
The finished products Omni Plant Based Meat and Burger will be launched into the market under Kitchen Plus, A&W, Happy Food and the other future co-brand . within this May 2021. This co-operation will also cover the channel of trade both local and international market including the OEM of raw material for export market.
This MOU will strengthen the bilateral business relationship and move forward GLOCON to become the leading manufacturer of high standard food innovation organization worldwide.