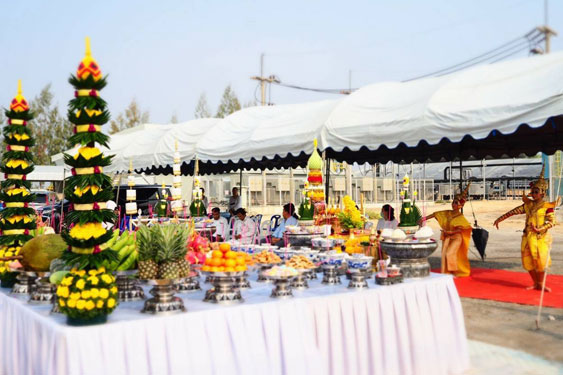 On Wed 17/2/2021 Miss Louise Taechaubol, Chairwoman of the Executive Board Triton Holding Public Co., Ltd. (TRITN) presided over the Brahma Shrine house Ceremony at Aukkrarawat Plants Renewable Energies Co., Ltd. (AKW) located at Tambol Srakrajome, Amphur Donjaedee, Suphanburi province. The ceremony is aimed at bringing prosperity to the operation, staffs and is simultaneous with the period the plant has commenced COD since 12 /2/2021
AKW is biogas power plant with production capacity 4.9 mw, using vinasse as raw material. TRITN is holding its shares on AWK via its subsidiary Triton Power Co., Ltd (TPW) at proportion of 75 percentage of registered capital. The plant has entered into long term contract (5 years) with Provincial Electricity Authority (PEA) at the maximum capacity of 4.9 mw. The contract is automatically revolving every 5 year at the PEA fundamental buying rate.
TRITN is currently having 2 biogas power plants, transmitting electricity to PEA totals at 7.9 mw i.e. Nongree Power Plant, Amphur Bor Ploi, Kanjanaburi province (3 mw) and Aukkrarawat Plants Renewable Energies Co., Ltd. (4.9 mw). Both power plants will promisingly generate stable income and create sustainable growth to TRITN in a long run.